Food & Drinks
At Comedy Club Haug we understand that a great night out should consist of more than just a good show. That's why we've done our best to make sure that, no matter if you're at the bar, on the terrace or watching a live show, there's always something nice to drink or eat.
Drinks
You can enjoy a range of drinks that would be the envy of the average pub. Our bar staff can prepare a latte macchiato or a Gin and Tonic with your favorite gin with the same ease. Want to keep it simple? Then we have over 10 different beers to choose from. And if you like to share, you can go for a bottle of cava, including ice bucket brought to your table.
Snacks
Snacks? Did someone say snacks?
Yes, of course! And not just any snacks... The biggest snack experts have assisted us in the search for the perfect snack assortment for the club. Vegetarian, vegan, carnivore or pescotarian, everyone is catered for. Four types of bitterbal, two types of croquette, grilled cheese sandwiches, flammkuchen or chips. At Comedy Club Haug you'l never have to starve.
Table service
Did you get a dry throat from laughing during the show? Just stay seated! We'll bring you another drink without you having to leave your seat. Scan the QR code next to your table number and order with your phone. We couldn't have made it easier.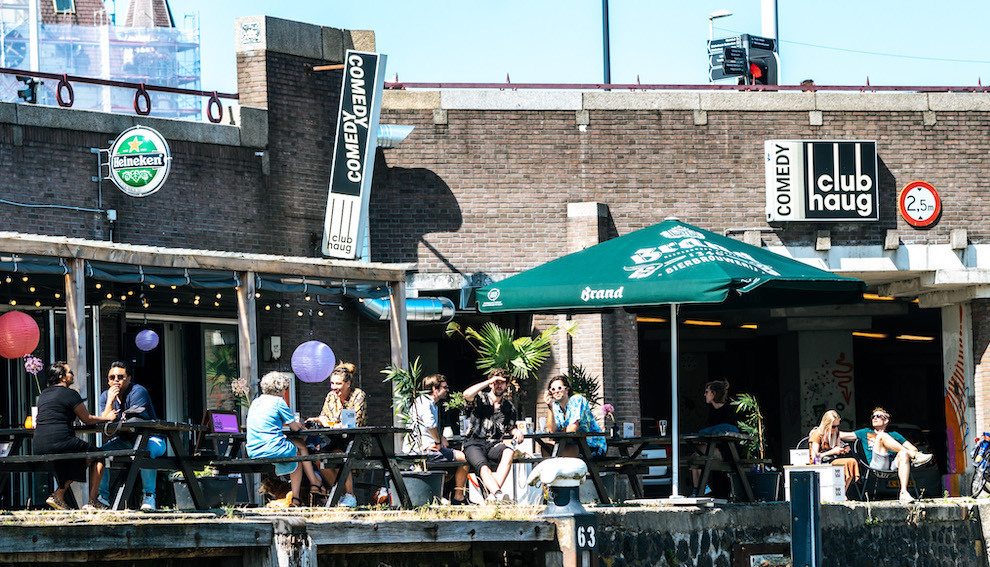 Terrace

And speaking of sunshine, our terrace is one of the sunniest spots in Rotterdam! Situated facing the south, right along the river Maas. With a unique view of the most iconic architecture in Rotterdam. On our terrace you can sit in a deckchair and enjoy the sun on your face with a cocktail in your hand. As a pre-party before the show, or on a quiet Thursday afternoon, you are always welcome.